From Classic Vanilla and rich-tasting Chocolate to originals like Coconut Almond Bar and Graham Central Station, there is something here for everyone's sweet tooth.
We have over 30 flavors all-season long and rotate in fan-favorites and seasonal tastes throughout the season.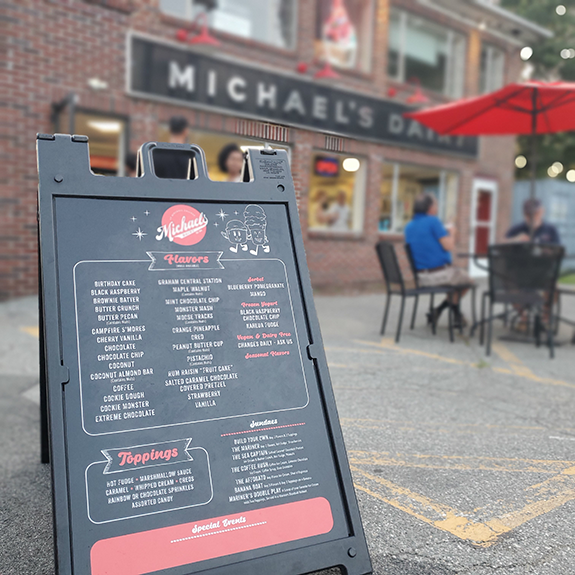 ICE CREAM
 Season-Long Offerings
(based on availability)
 Birthday Cake
A light yellow cake-flavored ice cream embedded with candy confetti & pieces of yellow cake swirled with sweet blue frosting
Black Raspberry
Classic black raspberry flavor
Brownie Batter
Brownie ice cream with a brownie swirl & brownie pieces
Butter Crunch
Butter ice cream with butter crunch candy
Butter Pecan
Butter ice cream with delicious pecan
(contains nuts)
Campfire S'mores
Toasted marshmallow-flavored ice cream with a graham cracker swirl & chocolate chunks
Cherry Vanilla
Blend of vanilla ice cream & maraschino cherries
Chocolate
Does it get more classic than chocolate?
Chocolate Chip
Vanilla ice cream with lots of real chocolate chunks
Coconut
Coconut-flavored ice cream with shaved coconut
(contains nuts)
Coconut Almond Bar *FAN FAVORITE*
Coconut ice cream with almonds, shaved coconut, & a chocolate chewy chip swirl
(contains nuts)
Coffee
Traditional favorite
Cookie Dough
Vanilla ice cream with chocolate chip cookie dough pieces & chocolate chunks
Cookie Monster *KID FAVE!*
Blue-colored vanilla flavored ice cream with chunks of chocolate chip cookies & mini chocolate chips
Extreme Chocolate
Double Dutch chocolate ice cream with lots of chocolate fudge pieces & a thick fudge swirl
Graham Central Station *FAN FAVORITE*
Graham ice cream with a graham cracker swirl & milk chocolate covered honeycomb crunch
Maple Walnut
Real maple syrup ice cream loaded with walnuts
(contains nuts)
Mint Chocolate Chip
Mint ice cream with lots of chocolate chunks
Monster Mash 
Vanilla ice cream, Oreo cookie pieces, M&M's, malted milk balls, & a delicious caramel swirl
Moose Tracks
Vanilla ice cream, miniature peanut butter cup truffles, and a thick rich fudge swirl
(contains peanut)
Orange Pineapple
Orange pineapple ice cream with orange & pineapple chunks
Oreo
Rich Vanilla Ice Cream with Oreo pieces swirled throughout
Peanut Butter Cup
Peanut butter ice cream with peanut butter cups & a chocolate swirl
(contains peanut)
Pistachio
Pistachio ice cream packed with pistachio nuts
(contains nuts)
Rum Raisin "Fruit Cake"
Rum-flavored ice cream with peaches, cherries, raisins, & apricots
Salted Caramel Chocolate Covered Pretzel *FAN FAVORITE*
Caramel ice cream with lots of chocolate-covered pretzels & a salted caramel swirl
Strawberry
A family favorite packed with strawberries
Vanilla
Crafted with pure Madagascar two-fold vanilla
SORBET
 Season-Long Offerings
(based on availability)
Blueberry Pomegranate
A sweet blueberry top note melts into the yummy flavor of pomegranate in this crisp invigorating sorbet
Mango
Crisp tropical flavored sorbet
FROZEN YOGURT
 Season-Long Offerings
(based on availability)
Black Raspberry Chocolate Chip
Black raspberry yogurt with lots of chocolate chips
Kahlua Fudge
Non-fat frozen yogurt with Kahlua & Piccala (coffee liqueur flavor) & a rich fudge swirl
VEGAN | DAIRY FREE FLAVORS
Made in-house! Check at the Dairy for this week's flavors